Across various sectors, African-Americans are serving as catalysts for change. They are leading the charge with programs and initiatives that foster holistic progress and introducing innovative measures that are transforming not only America but also reaching far beyond its borders.
A few weeks ago, the country welcomed a new Black Mayor, Paul Young, who was elected the 65th Mayor of Memphis. In a fiercely contested election held on October 5, 2023, Mayor Young emerged victorious, triumphing over 16 other candidates.
Today, we look at some African-American Mayors inspiring change across the United States while upholding the spirit of 'Black Lives Matter.'
Sylvester Turner
Sylvester Turner was elected the Mayor of Houston in 2015 and re-elected with a significant majority in 2019. As the 62nd mayor of the city, he has exhibited strong leadership by prioritizing disaster recovery and public safety and enhancing the overall well-being of Houston's diverse population. One of his primary objectives has been to eradicate chronic homelessness within the city. In pursuit of this goal, Turner has instructed the police to enforce an ordinance that prohibits sharing food with homeless individuals in Houston. Regarding gun control, Turner has voiced his opposition to measures that seek to restrict lawsuits against gun or ammunition manufacturers, permit concealed handguns on higher education campuses, and revoke the authority of local governments to prohibit concealed weapons on public property.
Karen Bass
Karen Bass, elected in 2020, currently holds the esteemed position of the 43rd Mayor of Los Angeles. Notably, she is the first woman to assume this role and the second African American elected as the city's chief executive. During her campaign, Karen Bass placed significant emphasis on tackling the root causes of Los Angeles's homelessness predicament, focusing on eradicating homeless encampments near elementary schools, public parks, and beaches. Before her mayoral tenure, Karen Bass served as a distinguished member of the U.S. House of Representatives from 2011 to 2022. Before that, she held a prominent position in the California State Assembly from 2004 to 2010. It is worth mentioning that she is the first Black woman to lead any state legislature across the entire nation.
Throughout her tenure in Congress, Karen Bass was the leading Democrat on the United States House Foreign Affairs Subcommittee on Africa, Global Health, Global Human Rights, and International Organizations. Her remarkable efforts have played a pivotal role in reshaping how Washington engages with African nations while fostering the numerous prospects for trade expansion and economic growth between Africa and the United States.
Karen Bass has also been a staunch advocate for the prevention and eradication of famine in Africa. In 2017, her unwavering dedication resulted in the allocation of nearly $1 billion in funds to combat famine in Nigeria, Somalia, and South Sudan. Additionally, she has introduced over 50 bills and resolutions addressing various issues in Africa, including the safeguarding of democracy, the expansion of economic opportunities, and other pertinent matters.
Karen Bass has been a vocal proponent of providing economic relief to small businesses and workers in Los Angeles. Her tireless efforts culminated in passing legislation signed by President Biden to generate employment opportunities and enhance public transportation and highway systems.
Eric Adams
Eric Leroy Adams became the 110th Mayor of New York City in 2022, making him the second mayor of African descent to hold this esteemed position. Before assuming this coveted role, the distinguished politician had served as an officer in the New York Police Department, a State Senator, and the Brooklyn Borough President. He adopted a tough-on-crime approach and reinstated the plain-cloth police unit that was disbanded by the previous administration. Additionally, he has implemented a zero-tolerance policy towards unhoused individuals sleeping in subway cars and increased police presence. Recently, the mayor announced that under his administration, the City of New York has awarded a record $6 Billion in contracts to small and minority owned businesses.
Ras Baraka
Ras Baraka assumed the position of Mayor of Newark in July 2014 and is currently serving his term until June 2026. Before he was appointed Mayor, Baraka served as a committed member of the Newark City Council. His progressive approach to governance has garnered recognition from grassroots organizations to the White House. His visionary agenda has resulted in a significant reduction in crime rates to their lowest levels while simultaneously addressing resource affordability and maintaining steady growth.
Additionally, his administration has successfully lowered unemployment rates, restored local control of schools after over two decades, and replaced all 23,000 known lead service lines in less than three years without any cost to residents. Baraka's performance has exceeded expectations since his inauguration in 2014.
As a demonstration of his dedication to enhancing Newark's position in the expanding technology sector, the City has introduced LinkNWK (pronounced Link Newark). This network of sidewalk kiosks serves as a communication platform, offering complimentary gigabit Wi-Fi, mobile device charging, nationwide phone calls, access to municipal services, maps, directions, and real-time local information on city streets, all without any expense to taxpayers or users. Additionally, broadband and Wi-Fi have been extended to city parks and recreation centers, and the City is committed to ensuring that every resident has access to free or highly affordable broadband to bridge the digital divide.
Jaylen Smith
In 2022, Jaylen Smith achieved a historic milestone by becoming the youngest politician to win a Mayoral race. At 18, Smith became the Mayor of Earle, Arkansas. He officially assumed office on January 3, 2023. His mayoral agenda is focused on enhancing public safety and transportation, revitalizing underutilized housing, preparing for emergencies, and tackling the issue of food deserts in Earle.
Andre Dickens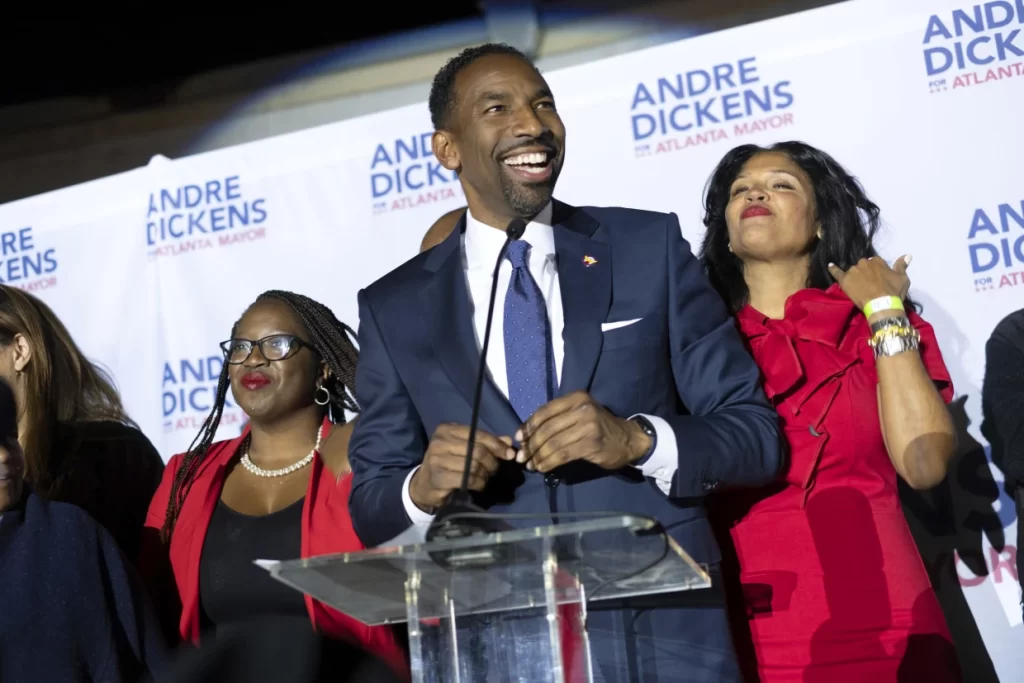 Andre Dickens, a resident of Atlanta, assumed the position of the 61st Mayor of his hometown in 2022. This dedicated statesman has been unwavering in his commitment to promoting fairness and ensuring public security in the city known as the Big Peach. Since assuming office in January 2022, Mayor Andre Dickens and his Administration have diligently endeavored to propel Atlanta toward progress by implementing forward-thinking initiatives prioritizing equal opportunities, safety, and future investments for all residents. His comprehensive agenda is firmly grounded in the objective of propelling Atlanta forward, achieved through enhancing public safety measures, expanding avenues for the city's youth, empowering local communities, making substantial investments in housing, and the fight against homelessness, all while fostering a culture of integrity within the City.
Brandon Scott
Brandon Scott became the 52nd Mayor of Baltimore in 2020. Before assuming this significant position, Scott acquired substantial political affiliations within the city. He served as the president of the Baltimore City Council from 2019 to 2020. Before that, he represented District 2 on the city council from 2011 to 2019. One of the primary objectives of his administration is to enhance the quality of life and bolster the economy within the city.
"Collectively, we have done so much in this short period to drive down unemployment from 12.6% in 2020, and 4%, in 2023," Mayor Scott said. "In 2021, we saw a 16.9% growth in income in our tech space new small businesses like Urban Oyster, Accubond, and Crust Biomek are expanding and opening across our city," said Mayor Brandon Scott.
Muriel Bowser
In 2015, Muriel Bowser was elected as the seventh Mayor of Washington, DC. Following her victory in 2022, she was re-elected for another tenure. Before she was appointed Mayor, Muriel Bowser served as a representative of Ward 4 on the Washington D.C. council from 2007 to 2015.
Mayor Bowser is an exemplary leader and adept crisis manager, boasting an extensive 25-year background in management and finance. Throughout her career, she has demonstrated exceptional skills in budgetary equilibrium, attaining AAA bond ratings, and ensuring clean audits. Furthermore, she has consistently exhibited a remarkable ability to devise and implement a progressive urban policy agenda while fearlessly making difficult choices within a high-pressure setting. Additionally, Mayor Bowser has played a pivotal role in shaping a diverse and thriving economy.
Since assuming office, Mayor Bowser has effectively revitalized the global and national competitiveness of Washington, DC. She has expedited the production of affordable housing, diversified the local economy, and overseen a consistent increase in enrollment across the District's public schools, reaching its highest level since the implementation of Home Rule. Additionally, Mayor Bowser has successfully enhanced satisfaction in city services, refocused efforts towards achieving statehood, and made substantial investments in programs and policies that promote the well-being and prosperity of families throughout the city.
Frank Scott Jr.
Frank Scott Jr. has held the esteemed position of Mayor of Little Rock since 2019. Before assuming this role, he served as a dedicated public servant, contributing his expertise as a member of the esteemed Little Rock Port Authority Board of Directors from 2011 to 2017 and on the Arkansas State Highway Commission from 2013 to 2017. On January 1, 2023, Mayor Scott began his second four-year term as the esteemed Mayor of Little Rock. It is noteworthy that Mayor Scott is the first African-American mayor to be elected by popular vote in the history of Little Rock.
Mayor Scott has been dedicated to fostering unity among the diverse neighborhoods of Little Rock by expanding the local economy, providing educational opportunities for the city's students, improving public safety, and enhancing the overall quality of life in Arkansas' capital city. Mayor Scott has successfully overseen the creation of over 10,000 new jobs thus far, resulting in a significant increase in the city's population, which now stands at over 203,000 residents. His focus on job growth and economic development has positioned Little Rock as a driving force for progress in the southern region of the United States.
The city's development projects, including the establishment of Trex, Amazon, Trader Joe's, Fiocchi, Topgolf, and many others, are clear indicators of the city's momentum and prosperity.
Brandon Johnson
Brandon Johnson is the esteemed Mayor of Chicago, having officially commenced his tenure on May 15, 2023. Possessing a profound expertise in youth development programming, education, and management, Brandon Johnson brings an extensive wealth of experience to his esteemed position. Before assuming office, Mayor Johnson diligently served as an educator within the Chicago Public School system. Brandon Johnson is the fourth African-American to hold this esteemed position of Mayor of Chicago.
Mayor Brandon Johnson recently announced his first-ever citywide composting initiative – a Food Scrap Drop-Off program. This inaugural program requires all residents of Chicago to transport their household food scraps to one of the 15 designated locations within Chicago.
"Today, my administration announced Chicago's first citywide composting initiative. Residents can bring their household food scraps to up to 15 locations, returning organic materials to the earth, and creating healthier communities across our great city."